Sign up for free
Translate

your video online

Type Studio helps you to automatically translate your video into over +30
different languages with the highest accuracy you can get.

Translate Now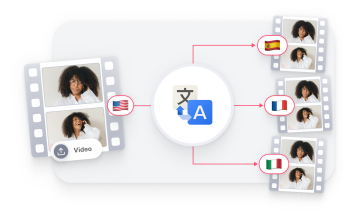 Benefits of online
video translation
Type Studio is an online text-based video editor that transcribes your videos
into text. Translate your video in any language with a single click.
---
Reach & Engagement
Translated subtitles help your audience to better understand your content and increase their interaction with it.
---
Highest Accuracy
The translation of your videos in Type Studio is with a score of over 95% accuracy the highest in the market.
---
Supported Formats
Type Studio auto translates your video and generates SRT, VTT, TXT, or just the transcript and subtitles for you.
Translation service in your browser
No matter in which original language your video is in – English, Spanish, French, Arabic, or Russian. We do an accurate translation for you. Our video editor comes with transcription services that help you to edit your videos. Translate your video within a few clicks online without downloading or installing any program.
Online Translation
Translated caption and subtitles
Type Studio's auto translator picks up the sound of your speech and translates it into the language you want. You can either copy-paste the transcribed text or put the translations as subtitles/captions onto your video. Make your video more accessible for people from all around the world. Our tool lives completely online on the web.
Translated Subtitles
How does
video translation

work?
Workflow of how to translate your video with Type Studio.
Upload your video files to Type Studio where the content will get automatically transcribed. Our tool analyzes your audio using google voice recognition. Make sure you select the language your video is recorded in when uploading.

When the upload is complete you can start with the editing or choose a language and click the "Translation" button. Of course, you can translate one video into many different languages. Just duplicate the file. The translation is of high quality as any other professional translation app.

When you're done with the editing just hit the "Export" button and we will ship the video to you. You can also share it directly online or embed it in your blog. Create accessible content for your viewers so they can watch your videos in their primary language.
Why

should I translate my video?

Accessibility is the key! Get more engagement by translating your video into foreign languages.
Think of all the non-native speakers who would appreciate it.
---
YouTube
You can grow your YouTube channel by translating your videos and opening content for an international audience. The subtitling features help your viewers understand the content much better.
---
Social Media
You have a global company, operating in many countries. Translate your videos with Type Studio so you can share them on all your channels. Create for each language a version of your video.
---
Website
Your website is multilingual? With Type Studio's "Video to Article" feature, you can embed your video into your blog or website translated in many different languages. They can even search through the video.
More than just
video translation
Type Studio is a video editor that brings a variety of features.
Edit your video text-based
You can not only auto-translate your videos accurately into another language but also edit them based on the transcribed text. Delete a word or sentence from the text and the video will cut automatically.
What our
creators

say

Over +40,000 creators and companies use Type Studio
to edit and add subtitles to their videos.

I was one of the early adopters of Type Studio and I have to say that working collaboratively on our videos is a game-changer. We save a lot of time repurposing our content to post them on all the different social media channels.
Alejandra Copeland
CMO Andromeda Production
Frequently

asked questions

Use Type Studio for creating permanent headline overlays and descriptions.
How can I translate a video?
You can translate your video online by using Type Studio. It is a web-based editor that auto translates your video. You can either get the transcription or put captions on your video. This way you can support your users and viewers in every country.
Can you translate a recording?
Yes, you can translate your recordings by following these simple steps. First, start with the media upload of your recording. Type Studio will transcribe your video. Once your video is uploaded you can start the transcription and you are done.
How do I translate a YouTube video?
Copy the URL of your YouTube video that you want to translate. Paste it into the uploading page of Type Studio and it will get automatically be uploaded. After that, you can select the language you want to translate it into. It takes a few seconds and your video is fully translated.
Type Studio

functions
Articles, tools and tips
Languages currently supported