Sign up for free
Online YouTube
Cutter
Cut, trim, and crop YouTube videos online by just pasting the URL into Type Studio.
Get Started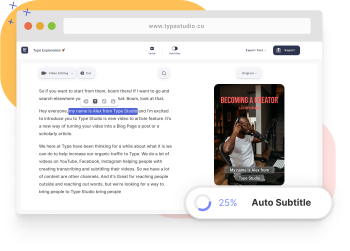 Benefits online
cutting
Need a quick and easy solution to cut a YouTube video? Then you've come to the
right place. With our online YouTube cutter, editing videos has never been easier.
---
Without detour
No annoying up and down straight and file moving. All you need is the YouTube video URL.
---
Shareable
The YouTube video keeps living online and you can send or post it directly from Type Studio.
---
Cutting edge
With Typ Studio's text-based editing approach you can cut your videos as fast as never before.
Grow your YouTube channel
Remove lengthy intros, unwanted scenes, and watermarks. Whether you're building a channel or advertising on YouTube, use Type Studio to create videos to engage your audience. With direct upload to your YouTube channel.
Combine Videos
Summarize your videos
Take your YouTube videos and cut out the most important parts with Type Studio to use these highlights on your social media channels for example. You can trim, cut or crop your videos based on the transcribed text. As easy as editing a Google Doc.
Edit Clips
Workflow

in Type Studio
How does cutting videos work?
Take the URL of your YouTube video and paste it into the upload area for Type Studio. It will get automatically uploaded into our editor and also transcribed.

Based on the text you can either cut, crop, or trim your video by deleting the parts that you don't want to have included. Or you can highlight parts and export them as separate clips.

Once you are done with clipping your YouTube video you can either download it, share it online, or post it to your social media channels.
Use-cases for shorten
videos
Here are three often seen reasons where shortening a video is used.
---
1. Social media formats
YouTube videos are often too long and therefore not suitable for social media. To make your existing video a shorter format, you can cut it down to a few highlights.
---
2. Delete parts
Cut intros or longer pauses out of your video to make them more snappy. Especially when it comes to engaging content, it is important that your videos have as much information depth as possible.
---
3. Create snippets
Repurposing content is the easiest way to create multiple videos. Take your YouTube video and cut it into multiple snippets and get the most out of your content.
What our
creators

say

Over +50,000 creators and companies use Type Studio
to edit and merge their videos.

I was one of the early adopters of Type Studio and I have to say that working collaboratively on our videos is a game-changer. We save a lot of time repurposing our content to post them on all the different social media channels.
Alejandra Copeland
CMO Andromeda Production
Type Studio as your
all in one solution
Type Studio is there for your entire content creation process and also works with audio!
Add images, text overlays, or resize your video to different aspect ratios to make it fit for all socials.
Creator platform
Whether you are an Educator, YouTuber, influencer, or any other sort of content creator. Type Studio empowers you to create more content faster. From creation to editing to distribution. All combined in a single tool. We have built features like subtitling, translation, sharing, and so on.
Frequently

asked questions

Creating video highlights has never been so easy.
Is there a free YouTube cutter?
Yes, Type Studio has a free version that lets you can cut your YouTube video for free.
How does YouTube video cutting works?
Paste your YouTube video URL into Type Studio where it gets automatically uploaded and transcribed. You then can cut your video based on the text. Delete words and sentences to shorten your video.
Type Studio

functions
Articles, tools and tips
Languages currently supported