Sign up for free
Translate

subtitles online

Use Type Studio to translate your subtitles automatically
into +30 different languages. Fast and accurate translation.

Get Started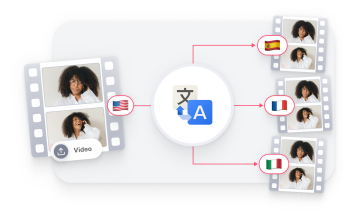 Benefit of
translated subtitles
We all agree that subtitels enrich your video and have a lot of positive effects on
your video. With translated subtitels, you can reach an even larger audience.
---
Reach & Engagement
Translated subtitles help your audience to better understand your content and increase their interaction with it.
---
Multi Format
Create translated subtitle formats to perform on all sort of platforms. We support SRT, VTT or TXT files.
---
Increase Accessibility
Subtitles are crucial in general, but with translated subtitles your content can be consumed by even more people.
Online subtitle translation
Type Studio is a text-based video editor tool that allows you to edit your video based on the transcribed language. It needs one click to create subtitles and one more click to activate the subtitle translator. Of course, you will get a translated SRT file.
Translate Now
700+ subtitle translation combinations
We're currently supporting more than 30 languages and are constantly adding new ones. Upload your video in one language and translate your subtitle files into different languages. Export the subtitle file, download the rendered videos or save them in Type Studio.
Choose Language
How does
subtitle translation

work?
This is the workflow of how to translate subtitles.
1 Upload your video to Type Studio where it gets automatically transcribed. Make sure you select the one language your video is recorded in when uploading. Drag and drop your video files in the tool.

Start editing your video and correct the subtitles if needed. Select the language you want the subtitles translated into. Your subtitle file will be translated automatically - everything online in your browser.

When you're done with the editing just hit the "Export" button and we will ship the video to you. You can also share it directly online, embed it in your blog, or download the VTT or SRT file. Simple reach more people by making your videos more accessible.
What our
creators

say

Over +40,000 creators and companies use Type Studio
to edit and add subtitles to their videos.

I was one of the early adopters of Type Studio and I have to say that working collaboratively on our videos is a game-changer. We save a lot of time repurposing our content to post them on all the different social media channels.
Alejandra Copeland
CMO Andromeda Production
Why

translating subtitles?

There are so many reasons why you should translate subtitles!
The biggest advantage you have with this is reaching people from all over the globe.
---
Ongoing globalisation
Expand your reach by translating content in multiple languages, to be viewed by people from every corner of the world. Translate any language with Type Studio and post it on YouTube with close captions or download the SRT file and add it to your post on LinkedIn, Facebook, or Twitter.
---
Non-native speakers
Help non-native speakers understand your content better. Just like when you turn on subtitles in your native language on Netflix. For non-native speakers, it is more convenient to watch videos with subtitles in their native language. Type Studio's subtitles translator makes it easier than ever with just one click.
---
Embed in your Blog
With our "Video to Article" feature, you can embed your video with different subtitle translations in your blog or website. Ideal if your website is multilingual. Duplicate projects and select the language you need. It will save you tons of time and you don't have to edit each manually. Text files will also be translated.
More than just
translate subtitles
The translation is of course not
the only thing Type Studio can do.
Start Now
Like a swiss army knife
You don't need many tools to edit your videos perfectly - Type Studio combines all the functions. Edit your videos text-based makes editing as easy as a Google doc.
Frequently

asked questions
How do I get subtitles to automatically translate?
Type Studio is a tool that converts your subtitles into more than 30 languages. Translate your media files in the most common languages no matter if you want to post them on YouTube or just want to get a vtt, or srt file.
How can I translate subtitles online?
Type Studio translates your subtitles online. You don't have to download any clunky tool! Just drag and drop your video into Type Studio and it will be transcribed. Just click on the "translate video" button in the subtitle menu and the translation will start.
How do I convert subtitles?
You can convert your subtitle file to another language by using Type Studio's auto translator. Upload your file to our platform let it transcribe and download subtitles as an SRT or VTT file.
Type Studio

functions
Articles, tools and tips
Languages currently supported