Sign up for free
Record

your video podcast remotley

Type Studio lets you record studio-quality video podcast interviews remotely in a
super-easy way. Record with up to 4k, automatic transcription, and speaker detection.

Get Started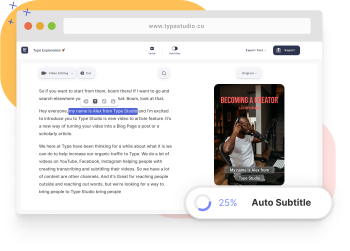 Benefits of remote
video podcasts
Want to record your podcast remotely and still have the highest quality? Type Studio is the
ideal podcast recording software for you and comes with all the advantages.
---
Additional content
Recording a video podcast allows you to repurpose your episode and create multi-format content.
---
All-in-one tool
Type Studio supports you in your entire podcast journey. From recording, editing, and distribution.
---
Scaling
By recording your episode remotely you suddenly can interview the entire world and not only the folks in your area.
High quality video recording software
With Type Studio you can record your screen in the highest quality. No matter if you do the podcast interview on Zoom, Google Meet, Skype, or any other meeting software. We will capture your screen without downloading or installing any additional software.
Combine Videos
The all in one solution
The recording is only the first step of creating your video podcast remotely. Once you are done with the interview your podcast will be automatically uploaded into Type Studio where it gets automatically transcribed. Edit your episode text-based and publish it directly to your channels and favorite platforms.
Edit Clips
Workflow

in Type Studio
How does our remote video podcast recoder works?
Signup and start the screen recording to capture your interview call. Choose either to capture your Zoom, Google Meets window, or your entire screen.

After the recording is finished your video podcast will land in the editor of Type Studio. Here you can polish the episode and cut out bloopers and pauses.

Once you are done with the editing you can export your podcast and either distribute it to your socials, send it via a link or upload it to your hosting platform.
Advantage of the latest
technology
Here are three major features that we have developed to help you create the best podcast possible.
---
1. Auto pause removal
With a click on a button, we remove all the pauses of your recording and make the conversation much more snappy. You can customize the duration of the pauses that should be deleted.
---
2. Filler words
It's pretty normal when you are not a professional speaker to include filler words such as "ehm" in your talking. Therefore we have developed the auto filler word removal. Just like the pauses, you can get rid of them with a single click.
---
3. Speaker detection
Since Type Studio is a text-based editor that transcribes your video podcast automatically, you can edit your interview based on the text. Our speaker detection helps you to keep an overview of who is saying what.
What our
creators

say

Over +50,000 creators and companies use Type Studio
to edit and merge their videos.

I was one of the early adopters of Type Studio and I have to say that working collaboratively on our videos is a game-changer. We save a lot of time repurposing our content to post them on all the different social media channels.
Alejandra Copeland
CMO Andromeda Production
Type Studio as your
all in one solution
Type Studio is there for your entire content creation process and also works with audio!
Add images, text overlays, or resize your video to different aspect ratios to make it fit for all socials.
Creator platform
Whether you are an Educator, YouTuber, influencer, or any other sort of content creator. Type Studio empowers you to create more content faster. From creation to editing to distribution. All combined in a single tool. We have built features like subtitling, translation, sharing, and so on.
Frequently

asked questions

Remote video podcasting has never been so easy.
Can a podcast be video?
Yes, we actually recommend you record your podcast as a video. You have much more flexibilities and opportunities to create muli-format content from it and use video clips to promote your episode on all the socials.
Can I record just audio?
Yes, you can also just do an audio interview with your podcast guest and record the audio file with Type Studio. The editing and distribution process is still the same.
Do I need expensive podcast recording software?
No, you can get started right away with whatever you have! Don't worry about the gear, for now, our recording and post-production possibilities will make your episode awesome.
Type Studio

functions
Articles, tools and tips
Languages currently supported