Sign up for free
Clip your video
highlights
The fastest way to find and highlight the best clips from your original video. Our text-based
video editor lets you create as many clips as you want by just highlighting the transcribed text.
Get Started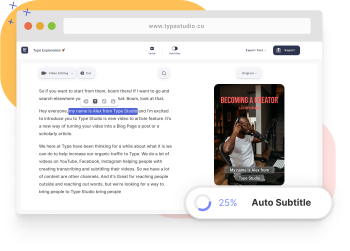 Benefits of creating
video clips
Do you have long-format video content such as your Zoom recording or your Twitch stream and
want to make short clips out of it? Then is Type Studio the ideal editor for you!
---
Repurposing
Get the most out of your videos by repurposing your content into multiple short bites.
---
Social Media
Short video clips are engaging content pieces on social media. So clip the most valuable highlights!
---
Summarize
By taking the best parts from your video you can create summaries and highlights with ease
Clip highlights based on the content
Type Studio is a text-based video editor. That means we transcribe your spoken words into text. You then can edit your video by just editing the text. Highlight the text parts that you want to turn into a new short content piece and click export clip. That's it!
Combine Videos
Repurposing at it's best
When you create highlights clips from your original video you probably want to make them fit for social media platforms. Type Studio includes the full repurposing functionality. Bring your content in different aspect ratios, add subtitles, headlines, and your logo.
Edit Clips
Workflow

in Type Studio
How does clipping video hightlights work?
Type Studio is an online video editor. So while you upload your video content it will be automatically transcribed. You can also import content from YouTube or your Google Drive directly.

Go through the text and mark the sections you want to turn into stand-alone video clips. Click on the export clip in the popping up menu. You can either render it immediately or edit the clip further.

If you want to style your clip you can do it in the editor. It won't affect your original video. Go ahead and change the aspect ratio, add subtitles, headlines.
Use-cases for creating
highlights
Here are three often seen use-cases where clipping your video to highlights makes sense.
---
1. Social media formats
For a long time now, one content piece has not been enough and the social media platforms require different formats. Clip content pieces with lengths for shorts, reels, stories, and normal posts.
---
2. Multi-format
Continuous posting is a key factor to being successful on social media today. By creating multiple short content pieces from your main video you can do a post series and don't have to create many videos.
---
3. Valuable Moments
Streaming live events cause some pauses between the different panels. With Type Studio you can cut out the talks precisely and keep the most valuable moments for publishing it.
What our
creators

say

Over +50,000 creators and companies use Type Studio
to edit and merge their videos.

I was one of the early adopters of Type Studio and I have to say that working collaboratively on our videos is a game-changer. We save a lot of time repurposing our content to post them on all the different social media channels.
Alejandra Copeland
CMO Andromeda Production
Type Studio as your
all in one solution
Type Studio is there for your entire content creation process and also works with audio!
Add images, text overlays, or resize your video to different aspect ratios to make it fit for all socials.
Creator platform
Whether you are an Educator, YouTuber, influencer, or any other sort of content creator. Type Studio empowers you to create more content faster. From creation to editing to distribution. All combined in a single tool. We have built features like subtitling, translation, sharing, and so on.
Frequently

asked questions

Creating video highlights has never been so easy.
What does clip highlights mean?
To clip a highlight means taking a portion of your video and extracting it as a shorter new stand-alone video. This is usually done when you have a valuable sequence in your main video that you want to create into a new piece of content.
How do you make a short highlight video?
You can create multiple short highlight videos by uploading your video to Type Studio and then marking the parts that you want to create clips of. It is super easy and quick.
Type Studio

functions
Articles, tools and tips
Languages currently supported