Sign up for free
Annotate

your videos online

Type Studio is an easy-to-use editor that lets you annotate your video
by simple drag-and-dropping text, stickers, images, emojis, and so on.

Get Started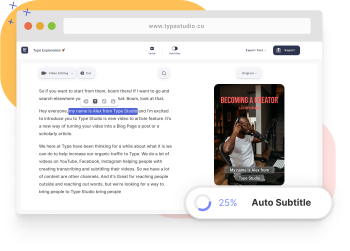 Benefits of annotating
videos
We know how painful it can be to annotate videos in a quick and easy way.
That is why we developed Type Studio. We make your annotation as easy as possible.
---
Ease of use
Video annotation online in your browser without downloading any clunky editing software.
---
Enrich Content
Including images, headlines, emojis, and shapes in your video help to let them perform better on your socials.
---
Product Demo
Annotations are super-useful for creating how-to videos and product demonstrations.
Wide range of annotations
Type Studio includes a big library of pre-sets such as shapes, stock images, or your favorite emojis. You can also upload any kind of image or create text overlays, headlines, or subtitles.
Annotate Video
Perfect for collaboration
Work remotely or collaboratively with your team easier than ever before. Work on your social media, marketing, or educational content together. Annotations help you to make unique video content that performs.
Work Together
Annotation workflow in
Type Studio
How to annotate your video?
Upload your video file to Type Studio where it gets transcribed. Just drag and drop your file and the upload will start.

Highlight the transcribed text parts that you want to add elements. Choose between images, shapes, text, or emojis and select the media or upload it. You can then edit your annotations on the video canvas.

Once you are done, you can click "Export" and we will render the video for you.
Enrich your video with
annotations
Three reasons why you should annotate your videos
and how Type Studio helps you with that.
---
1. Increase engaging
Make your video special. With annotation, you can make your video stand out from all the others in the social media newsfeeds. This will result in grabbing more attention, interaction and increase your reach overall.
---
2. Tutorials
No matter if you are doing a tutorial, walkthrough, or training video. Annotations help you to structure your video and make it much easier for the viewer to follow. Add chapter headlines, supportive arrows, and so on to your videos.
---
3. Drag and drop
It's not much extra effort and only takes you a few minutes to add annotations to your video. With Type Studio easy to use drag and drop editor your can style your video really fast.
What
creators

say

Over +40,000 creators and companies use Type Studio
to edit and add subtitles to their videos.

I was one of the early adopters of Type Studio and I have to say that working collaboratively on our videos is a game-changer. We save a lot of time repurposing our content to post them on all the different social media channels.
Alejandra Copeland
CMO Andromeda Production
More than
video annotations
Type Studio is there for your entire content creation process! Whether you want
to record a video, edit it or post it directly to your social media channels.
Discover All Functions
Edit your video text-based
With Type Studio you can edit your video file by editing the subtitles. Automatic subtitle generation is only one aspect of Type Studio. We built Type Studio so you can focus on creating amazing content with ease, without having to learn complex software. With Type Studio creating content is easy, so you can focus on growing your audience.
Frequently

asked questions

Use Type Studio for subtitling your video easily and fast.
How do I annotate a YouTube video?
Take the YouTube URL and paste it into Type Studio. It will get automatically uploaded into the editor from where you can start adding annotations to the video.
Can I annotate an image in Type Studio?
Yes! You can upload your own images and photos or choose from stock images from our library.
What does it mean to "annotate" a video, and why should I do it?
Annotating a video means adding elements on top of the video to make it more understandable, interactive, and engaging. It can be funny like adding emojis or GIFs or it can be explanations like headlines, pointers or subtitles.
Type Studio

functions
Articles, tools and tips
Languages currently supported