Sign up for free
Add
Subtitles

to your Video

Automatically add subtitles to your videos without downloading
any program. Type Studio generates captions for you online.

Add Subtitles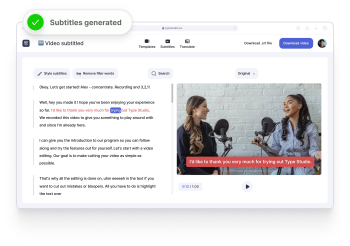 Benefits of adding
subtitles
We know how painful it can be to add subtitles using complicated programs like Adobe Premiere
or Final Cut. But at the same time, we know that subtitles have a positive impact on our video.
---
Reach & Engagement
Most people on social media watch videos without sound. That's why subtitles are so crucial.
---
Searchable Videos
Including subtitles in your video help search engines actually understand your content.
---
Increase Accassability
By adding subtitles to your videos you can make your content accessible to those who are deaf or hard of hearing.
Add Subtitles to video automatically
Instead of writing Subtitles yourself or fiddle around with complicated SRT files, you can now add text to your videos automatically with just one click.
Subtitle Video
Customize Subtitles
Once the subtitles are generated automatically you can always correct words in case the auto transcription got something wrong or if you want to make custom adjustments.
Style Subtitles
Subtitle workflow in
Type Studio
How does subtitling work?
Upload your video file to Type Studio where it gets transcribed. Just drag and drop your file and the upload will start.

Just hit the subtitle button to add the subtitles to your video online.

Double-click on the word to make your changes. Btw you can also download your subtitles as an srt file. The subtitle file is then generated.
Enrich your video with
subtitles
Three reasons why you need a subtitle editor like Type Studio
to enhance your video and get the most out of it.
---
1. Most people don't or can't turn on audio
The best-known figure is that 85% of all Facebook videos are watched on mute. This is just one social network of the many distribution channels you can post to. No matter if people have your sound turned off, you can reach them better with subtitles!
---
2. Subtitles improve the comprehension
There are people with different types of learning. Those who can learn better while reading subtitles, now have an advantage. In fact, many people prefer watching videos with subtitles even if they don't have to.
---
3. More engagement from your audience
It is proven that the engagement rate is increased for videos with captions. Not only does the engagement rate increase, but also the research from Facebook claims that adding subtitles to your video can boost view time by 12%.
What
creators

say

Over +40,000 creators and companies use Type Studio
to edit and add subtitles to their videos.

I was one of the early adopters of Type Studio and I have to say that working collaboratively on our videos is a game-changer. We save a lot of time repurposing our content to post them on all the different social media channels.
Alejandra Copeland
CMO Andromeda Production
More than
subtitles
Type Studio is there for your entire content creation process! Whether you want
to record a video, edit it or post it directly to your social media channels.
Discover All Functions
Edit your video text-based
With Type Studio you can edit your video file by editing the subtitles. Automatic subtitle generation is only one aspect of Type Studio. We built Type Studio so you can focus on creating amazing content with ease, without having to learn complex software. With Type Studio creating content is easy, so you can focus on growing your audience.
Frequently

asked questions

Use Type Studio for subtitling your video easily and fast.
How can I add subtitles for free?
Type Studio is the web's easiest tool for adding subtitles to your video without any restriction. You can signup for the free version and use it as long as you want. No credit card is required. Once you uploaded your video to Type Studio it gets automatically transcribed. You're one step away from getting your video subtitled. All you have to do is hit the auto subtitling button in the top menu bar. That's it! Your caption is burned into your video directly.
How to add subtitles on video?
1. Upload Your Content: Register to Type Studio, choose your video file, start uploading it.
2. Closed captions: In the menu bar, you can activate the auto subtitles by toggling the button.
3. Edit Subtitles: If some words need a correction, you can edit them in the transcribed text manual.
4. Render subtitled video: After you finished subtitling your video hit the render button and we do all the heavy lifting for you.
How can I add subtitles to a video without any software?
Type Studio is a video editor that lives in your browser. That means you don't have to download any software. All your videos will be stored online in our Project Overview and the rendering will be done in the cloud as well. Since Type Studio works text-based, we already transcribe your videos by default. That means adding subtitles will be done with just one click. It's the easiest way to add close captions to your video!
How do I permanently add subtitles to a video?
Type Studio allows you to put subtitles to videos permanently. With our automatic subtitle generator, you can burn subtitles straight into your video. Just signup to Type Studio, upload your video and activate permanent subtitles. If you like you can also customize them. However, Type Studio also gives you the flexibility to export your subtitle file as an srt file (Subrip Subtitle Format) which is the most common subtitle format.
Type Studio

functions
Articles, tools and tips
Languages currently supported